Donates Fight Proceeds to Kosair Children's Hospital
Just weeks after earning his Olympic gold medal, Ali faced Tunney Hunsaker in Louisville, with proceeds from this fight going to Kosair Children's Hospital. Fellow Olympic champion Wilma Rudolph, a childhood polio survivor, was a guest at the event.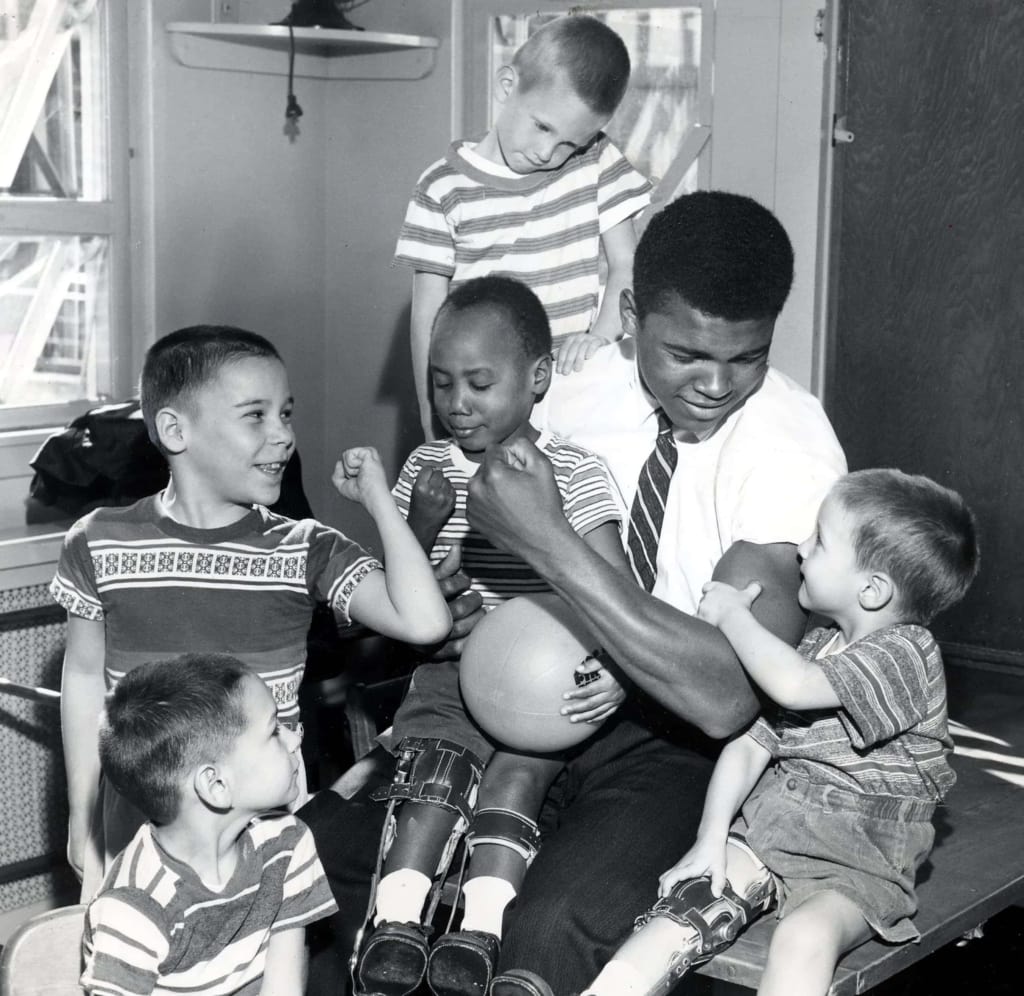 Provides Relief for PA Coal Mine Disaster
On December 6th, 1962, Robena Coal Mine near Carmichaels, Pennsylvania suffered a catastrophic explosion due to methane gas. Eighty-four men were in the mine at the time and 47 of them fled to safety. Cassius Clay (Muhammad Ali) donated 10 percent of the proceeds from his bout with Charlie Powell to the Robena No. 3 Disaster Trust Fund for the families of the thirty-seven Pennsylvania coal miners killed.
Ali Seeks His Ancestral Roots – First Visit to Africa
Muhammad Ali had a lifelong connection to African people and nations. On this first trip to Ghana, Nigeria, and Egypt, Ali became an inspirational symbol of anti-colonialism. In Ghana, Ali was welcomed as a son of Africa, a hero, and an inspiration to youth throughout the world. Ali declared his roots by saying "I am an African." When he visited the Pyramids in Cairo, it was said "he fused politics and religion, giving the black power salute while shouting in Arabic 'God is great.'"
Largest-ever United Negro College Fund Donation
Muhammad Ali became the largest single Black contributor to the treasury of the United Negro College Fund (UNCF) by donating $10,000 ($78,000 in 2020 USD). UNCF President Dr. Stephen J. Wright noted that Ali did seek any publicity in making his donation.
"Unlike other donations, the envelope did not contain anything which would have amounted to a request for publicity. It just contained the check."
Dr. Stephen J. Wright
Ali Supports Palestinian Refugees
Muhammad Ali visited a Palestinian Refugee Camp in Southern Lebanon to shine a spotlight on the needs of the people there. He was one of the first notable people in the U.S. to support the Palestinians.
Ali donated 50 cents of every ticket for his closed-circuit-television title match against Chuck Wepner to help aid the drought-stricken Sahel region of West Africa. The relief was split evenly between the United Nation's Children's Fund and Africare.
"Wars of nations are fought to change maps...wars on poverty are fought to map changes."
Muhammad Ali
New York Hillside Aged Program Center
After hearing that the New York Hillside Aged Center was ready to close, Ali spontaneously appeared the next morning with a $100,000 donation. He stayed for a while to meet some of the residents and then left before reporters caught up with him.
"You just don't announce things like that. They're not for publicity. Service to others is the rent I pay for my room here on earth."
Muhammad Ali
Muhammad Ali visited northeastern England to raise money for boys' boxing clubs. He visited the Pendower School for Handicapped Children, sparred with young boys at the boxing club, and served as the Grand Marshal of a local parade. In London, Muhammad presented a bus to the Hospital for Sick Children on behalf of the Variety Club of Great Britain.
U.N. Campaign Against Apartheid and Racial Injustice
Muhammad Ali spoke out and brought attention to racial issues and global inequities. Ali would travel to the United Nations to campaign against apartheid in South Africa, bringing one of his drawings to then secretary Kurt Waldheim with the phrase "Peace!" Ali would also address the U.N. during a Special Committee against apartheid.
Muhammad Ali Goodwill Ambassador Visit to Russia
Muhammad Ali visited the Soviet Union at the invitation of Premier Leonid Brezhnev, during the Cold War. This was one of his many goodwill visits spreading the message of Islam as a religion of peace. While in Moscow, Ali prayed at a local mosque.
Ali becomes Carter's diplomat abroad
Muhammad Ali met with African leaders on behalf of U.S. President Jimmy Carter to organize a boycott of the '80 Moscow Olympics. President Carter wanted to rally opinion against the Soviet Union's invasion of Afghanistan. Ali visited Tanzania, Kenya, Nigeria, Liberia, and Senegal to get them on board. Ali also put on a charity exhibition match in Kenya.
Prevents young man's suicide in L.A.
Ali hears of a distressed man threatening to jump from a ninth-floor window and races his car to the scene. He talks the man down from the ledge by saying, "You're my brother. I love you." Checking the man into a local hospital, Ali returns later to check on his progress.
Hostage Release in Lebanon
Muhammad Ali negotiated the release of four U.S. citizen-hostages and a Saudi Arabian hostage held by unknown captors in West Beirut, Lebanon, on behalf the Reagan administration. Hezbollah had announced its existence with a manifesto proclaiming its goal of the obliteration of Israel. While in Lebanon, Ali attended prayer at a mosque in Beirut.
Children's Journey for Peace
Muhammad Ali sponsored the Children's Journey for Peace, and was one of the founders of the Children's Peace Foundation. The summer-long peace crusade involved Ali and 50 children from around the globe visiting Moscow, Peking, New Delhi, London, Washington, D.C., and the Vatican, petitioning their leaders to fight for peace by the year 2000.
Famine Relief in the Sudan
Ali was invited to travel to Sudan on an American Society for Humanitarian Aid and Development (ASHAD) mission for famine relief. Ali first arrived in Khartoum and was greeted by Prime Minister Sadiq al Mahadi. Ali visited several camps for those displaced by famine and war, particularly victims of heavy August 1988 floods that disrupted food production.
​​Brokers Release of "Human Shield" Hostages in Iraq
On the eve of the Gulf War, Ali travels to Baghdad to seek the release of U.S. and British citizens being held as "human shields" by Iraqi leader Saddam Hussein. After waiting a week to meet with Hussein, Ali's intervention frees 15 hostages, including a peace delegation of Native American elders.
Muhammad Ali Meets Nelson Mandela
Muhammad Ali visited Nelson Mandela in South Africa when Mandela was released from prison after twenty-seven years. A member of Ali's security detail reported that he never forgot how Ali carried a briefcase full of pamphlets with religious messages that he had signed, and would distribute to anyone who asked for his autograph.
Ali Seeks Release of Iran-Iraq War POWs
Muhammad Ali visited both Iran and Iraq to negotiate a prisoner exchange of and freedom for approximately 25,000 people imprisoned since the Iran-Iraq War (1980-88). He traveled as an independent Goodwill Ambassador, but his efforts sadly failed. In Iran, Ali laid a wreath at the tomb of Ayatollah Ruhollah Khomenei and joined worshipers in Tehran.
Sports Diplomacy in North Korea
Muhammad Ali visited North Korea as part of the "Sports and Culture Festival for Peace," that featured the American wrestler Ric Flair and Japanese wrestler "Tony" Inoki. The group also included Koreans from Canada and the U.S. who joined the trip to see if they could meet long lost relatives.
Musician Prince Rogers Nelson was honored to support his hero Muhammad Ali and his message of racial tolerance at the World Healing Project press conference. The two met with the press to outline the upcoming October charity concert tour to aid the Muhammad Ali World Healing Project program that would combat bigotry worldwide.
Muhammad Ali traveled on a goodwill mission to Havana, Cuba, accompanied by actor Ed Asner and representatives of the U.S.-based Disarm Education Fund and Direct Relief International organization to donate medicine and equipment to local hospitals. He and his wife Lonnie visited children at a local Hospital. Ali also met with Cuban President Fidel Castro.
Named U.N. Messenger of Peace
Ali's 1978 address to the Special Committee against Apartheid, along with his own belief in sport's power to create unity, inspires Secretary-General Kofi Annan to name Ali as one of his first messengers of peace.
Presidential Citizen Medal
Muhammad Ali was awarded the Presidential Citizens Medal by President Bill Clinton. The citation stated: "The most celebrated boxer in history and a devoted social activist, Muhammad Ali continues to inspire us. Truly the "Greatest of All Time."
Muhammad Ali visited New York City's still smoldering Ground Zero on September 20, 2001, just nine days after the attack to lift the spirits of the first responders and their families to spread a message of peace.
Ali Visits Afghanistan as Messenger of Peace
Muhammad Ali visited war-torn Afghanistan to raise awareness of the country's needs and the United Nation's work there, on a three-day goodwill trip. His visit was organized by the UNICEF and the World Food Programme, and included a visit to a local co-ed school.
Receives Presidential Medal of Freedom
President George W. Bush awards Ali with the highest civilian honor in the United States: "Across the world, billions of people know Muhammad Ali as a brave, compassionate and charming man, and the American people are proud to call Muhammad Ali one of our own."
Ali advocates for release of American hikers in Iran
Joshua Fattal and Shane Bauer were arrested on the unmarked border between Iran and Iraq on July 31, 2009. They pled not guilty to spying charges. Muhammad Ali joined a dozen Muslim leaders in signing a letter to Iranian Supreme Leader Khomenei seeking the hikers' release.
Ali receives Liberty Medal
Muhammad Ali was honored for his long-time role as an advocate for humanitarian causes, civil rights and religious freedom. Ali was recognized as the "Champion of Freedom" for his unrelenting, persistent fight for equality, peace, and justice in every area of life all over the world.
Advocating for Release of Detained Reporter in Iran
Muhammad Ali issued a public statement advocating for the release of Jason Rezaian, the Post's Tehran correspondent. Rezaian reported after his release that Ali's efforts on his behalf improved his treatment in prison by Iranian prison guards. He was released in January 2016.
Ali Defends Islam as a Religion of Peace
Muhammad Ali issued one of his final public statements after terrorist attacks in the name of Islam in Paris and California. A few days after then-presidential candidate Donald Trump suggested that there are no Muslim sports heroes, Ali spoke against Trump's call to ban Muslims from entering the U.S.