Cassius Clay, Jr. is born to Odessa and Cassius Clay, Sr. at the Louisville General Hospital in South Louisville. Two years later, brother Rudy (later Rahaman Ali) is born, and soon the family moves into the Parkland neighborhood.
The red Schwinn bike of twelve-year-old Muhammad Ali (then Cassius Clay, Jr.) is stolen outside the annual Louisville Home Show. Reporting the theft to nearby policeman Joe Martin, he expresses a desire to "whup" the culprit. Martin—who trains young boxers—suggests he should first learn how to fight. (Spoiler alert: advice taken.)
Enters Central High School
Cassius struggles academically (he was later diagnosed with dyslexia) but becomes a school celebrity for his dedication to training, including running to school every day alongside the bus. He would visit the school as a hero after the Rome Olympic Games and his legacy remains a point of Central pride.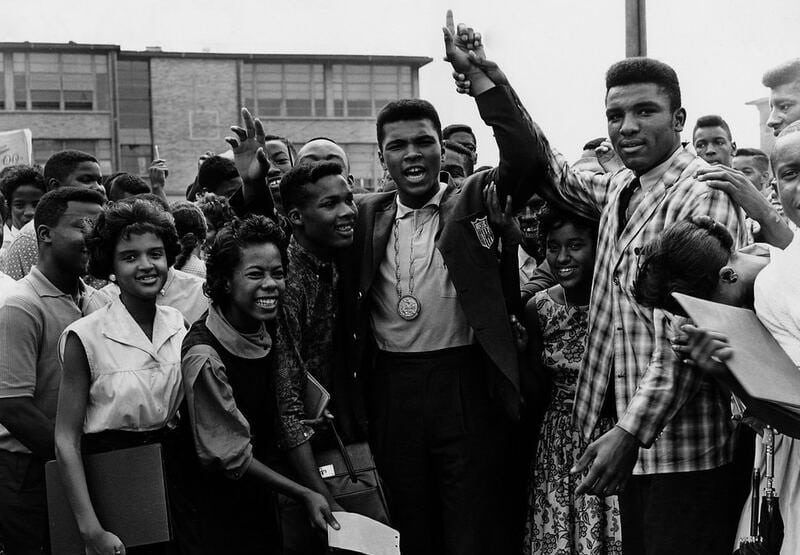 Wins Olympic Gold Medal
Three months out of high school, Ali competes at the 1960 Summer Olympics in Rome. Despite being afraid of airplanes, Ali boards the flight while wearing an army surplus parachute. He wins the light-heavyweight gold medal, defeating Zbigniew Pietrzykowski of Poland.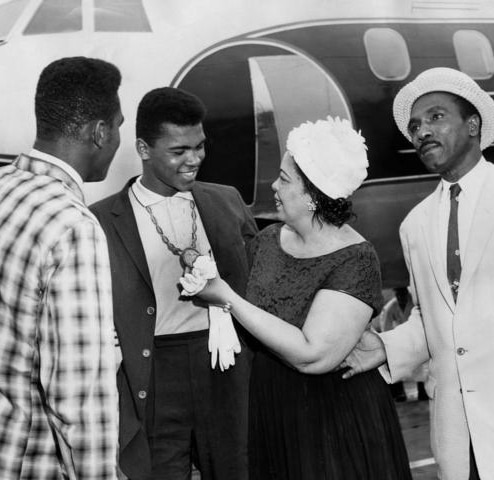 Signs with Louisville Sponsoring Group
At age 18, Clay enters a contract with a group of Louisville-area businessmen who will finance his professional boxing career. Clay is represented by Alberta O. Jones, who influenced his future philanthropic efforts. Clay would later donate the winnings of his first professional fight to Kosair Children's Hospital.
Clay's early boxing years are also formative ones in his spiritual journeys, headlined by meeting Malcolm X in Detroit in 1962, and Drew Bundini Brown in the spring of 1963. Training with Angelo Dundee at 5th Street Gym in Miami, Cassius is poised for the next level, carrying 19 straight wins into his first shot at the heavyweight championship.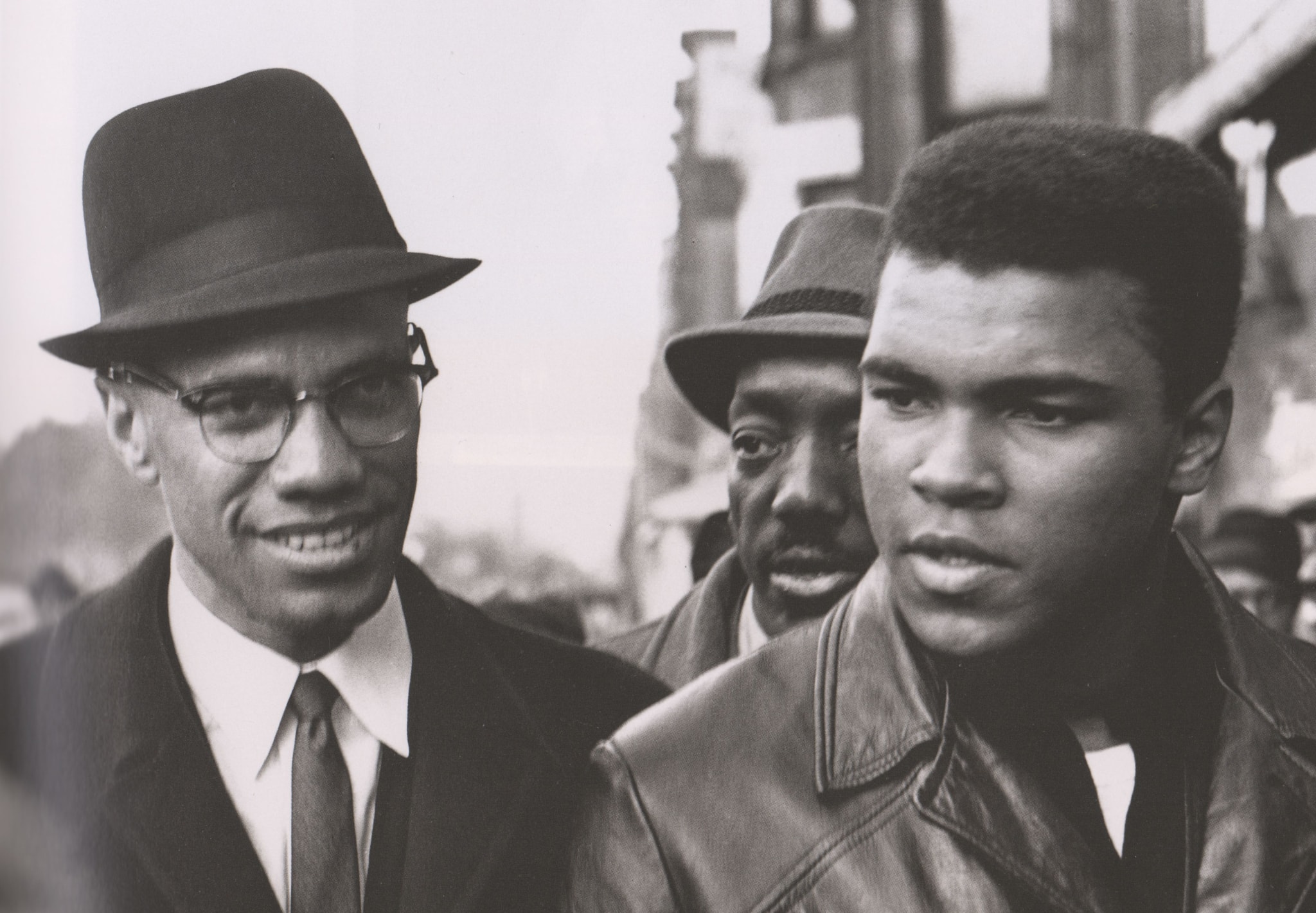 Clay Vs. Sonny Liston (I)
In his first heavyweight title bout, Ali is a longshot to defeat Liston, widely seen as unstoppable. Nonetheless, Ali predicts "a total eclipse of the Sonny"—and indeed Liston does not rise to the seventh round's opening bell. "I'm the greatest! I shook up the world!"
Win - Technical Knockout in 6 rounds [Miami Beach]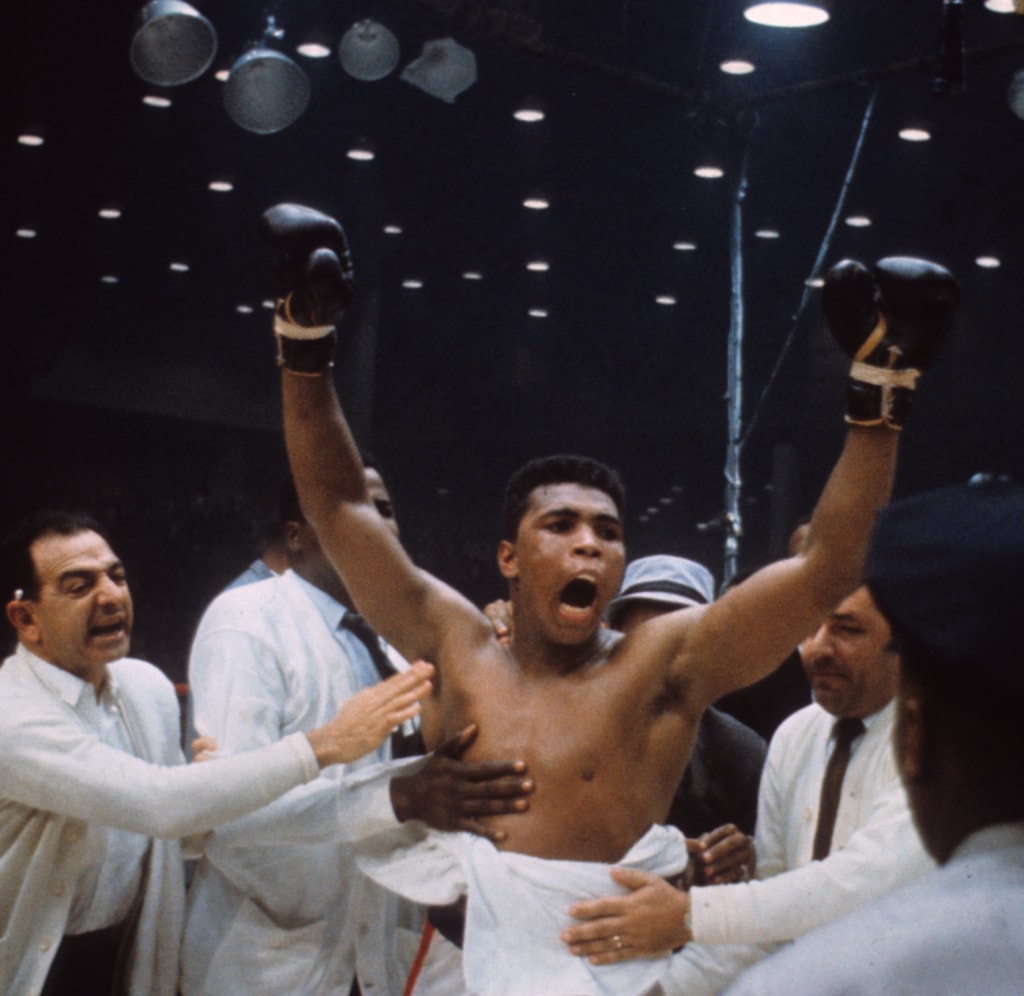 Announces Conversion to Islam, Name Change
The day after winning his first heavyweight belt, the fighter announces he is a proud Muslim. He goes by the name Cassius X for nine days, then receives the new name of Muhammad Ali from Nation of Islam leader Elijah Muhammad.
Visiting Ghana, Nigeria, and Egypt, Ali inspires as a symbol of anti-colonialism. Welcomed in Ghana as a son of Africa and a hero, Ali reclaims his roots by saying "I am an African." At the pyramids in Cairo, the BBC reports he "fuse[s] politics and religion" when giving the Black power salute and shouting 'God is great' in Arabic.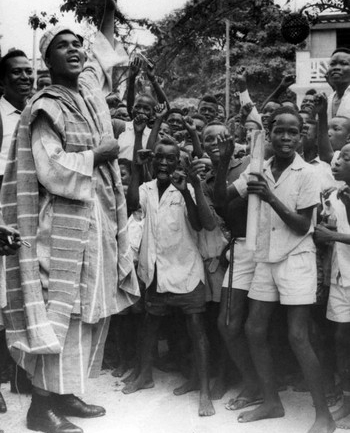 Refuses Military Draft in Houston
Ali twice refuses to step forward when military induction officials call his name, citing his conscientious objection to the war in Vietnam as a minister in the non-violent religion of Islam. Convicted of draft evasion, he is stripped of his heavyweight title and boxing licenses.
"No, I will not go 10,000 miles from home to help murder and kill another poor people simply to continue the domination of white slave masters."
Muhammad Ali
Rallies with Martin Luther King, Jr. in Louisville
Ali joins Martin Luther King, Jr. in Louisville at a rally for fair housing practices. The open housing demonstrations had protesters calling for a boycott of the Kentucky Derby on the same day, where members of the Ku Klux Klan offered to help keep order. City police and Churchill Downs refused.
The two men fought for civil rights but shared different ideals, with King declining the views of the Nation of Islam on integration.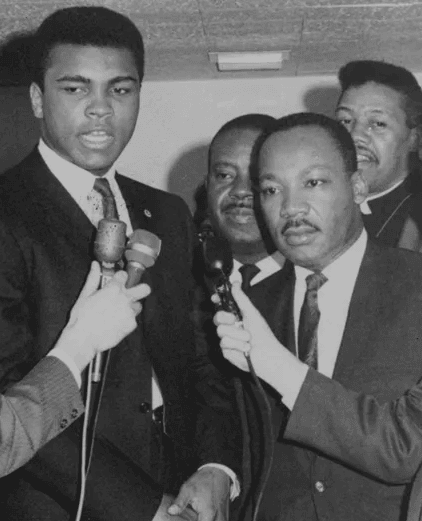 Football star Jim Brown organizes a summit of 12 leading Black athletes, including Kareem Abdul-Jabbar and Bill Russell, to meet with Ali and discuss his position on the draft. Most were veterans themselves, and several arrived intending to change Ali's mind. However, the group emerged expressing support for Ali's position.
Ali Vs. Jerry Quarry: First Post-Exile Fight
This fight was not approved by Georgia governor Lester Maddox, a segregationist who declared a "day of mourning" over it. However, only Atlanta Mayor Sam Massell's approval was necessary, secured through the efforts of State Senator Leroy Johnson. Ali previewed the fight in a drawing to Leroy Nieman, where Maddox is drawn running down the back right aisle, yelling "Stop that fight!"
Win - Technical Knockout in 3 rounds [Atlanta, Georgia]
In a chance to reclaim his title, Ali's first heavyweight fight with Frazier matched two undefeated fighters. However, Ali's three years away from the ring made the difference in a grueling 15 rounds. It is Ali's first defeat and the start of the greatest rivalry in boxing history.
Loss - Unanimous Decision in 15 rounds [New York City]
In a unanimous decision, the United States Supreme Court overturns Ali's conviction for draft evasion, saying the Appeals Court had not properly established their grounds against Ali's conscientious objector status. His passport is returned, and he is officially a free man.
Makes First Pilgrimage to Mecca - Hajj
With his passport returned by the Supreme Court decision, Ali travels to Saudi Arabia to perform Hajj for the first time. Ali observes ihrām—a sacred state of cleansing and attire—as he approaches Mecca. While there, Ali also meets with the royal family.
Establishes Deer Lake Training Camp
Ali buys several acres in Deer Lake, Pennsylvania and builds a remote training camp called Fighter's Heaven, where the Champ held training sessions, opening it to the public. Fighter's Heaven was reopened and restored in 2016 and named a historical destination.
---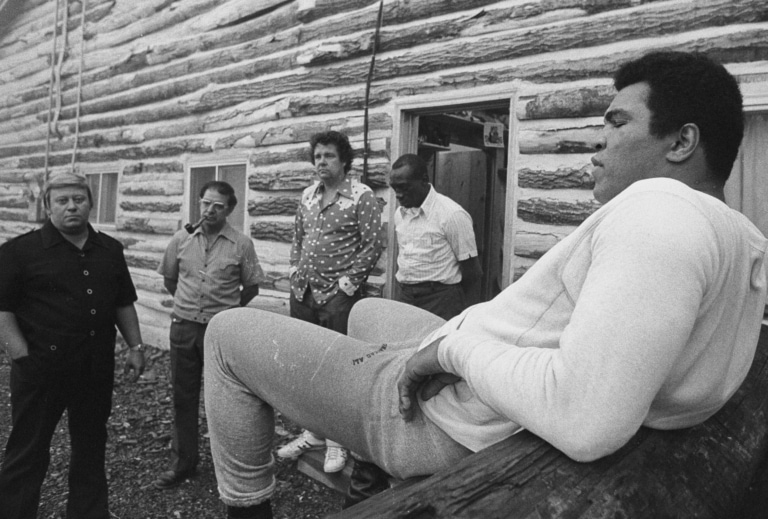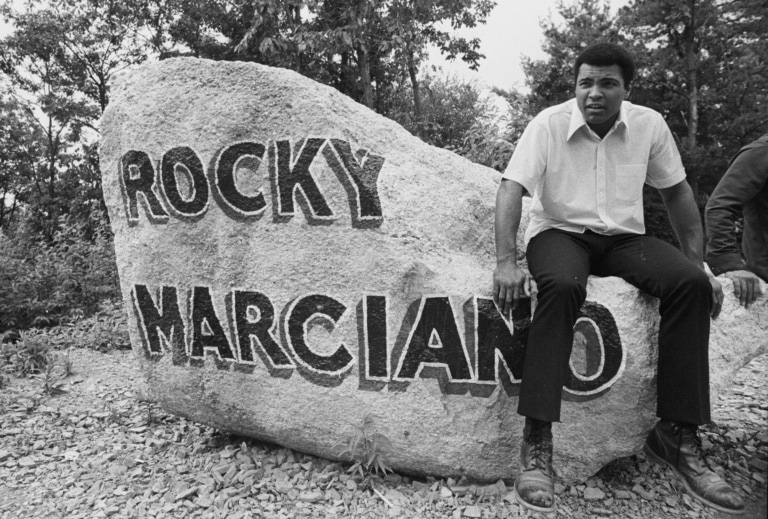 Ali Vs. Joe Frazier (II) - Super Fight II
Although Joe Frazier no longer held the title of Heavyweight Champion, Muhammad Ali wanted to face him again to prove he was indeed "the Greatest." Billed as "Super Fight II," the match went the distance of 12 rounds and ultimately led to a unanimous decision in favor of Ali.
Win - Unanimous Decision in 12 rounds [New York City]
Ali Vs. George Foreman – Rumble in the Jungle
A showdown in Zaire (now Democratic Republic of the Congo) to reclaim Ali's heavyweight title puts him against Foreman, the imposing favorite. Ali employs his "rope-a-dope" tactic: leaning on the ropes, Ali absorbs body blows until Foreman finally wears himself out. The fight held cultural impact for the people of Zaire, who connected with Ali, as well as the millions who watched the fight around the world.
Win - Knockout in 8 rounds [Kinshasa, Zaire]
Makes First White House Visit
Ali met seven presidents throughout his lifetime, beginning with Gerald Ford. President Ford invited Ali and later said in part "I wanted to meet Muhammad, not only because of my interest in sports, but because it was part of my overall effort to heal the wounds of racial division, Vietnam, and Watergate."
Wallace D. Muhammad assumes his father's leadership of the Nation of Islam, aligning it more closely with the teachings and practices of Sunni Islam. Ali chose to follow these teachings and practice what he came to refer to as "true Islam."
Ali Vs. Joe Frazier (III) – Thrilla In Manila
Ali meets Frazier in the final installment of this storied boxing rivalry, and one of the most grueling but best displays of the sport. It was the fight Ali said was the closest he's ever been to dying. Both fighters faded fast toward the end, but it was Frazier's corner who conceded in round 14.
Win - Technical Knockout in 14 rounds [Quezon City, Philippines]
Leads Trenton Rally for "Hurricane" Carter
Ali is a prominent public advocate for the release and exoneration of Rubin "Hurricane" Carter, a former boxer arrested along with John Artis for a 1966 triple homicide with dubious evidence. Carter was released under habeas corpus after nearly 20 years in jail.
Campaigns against Apartheid
Ali appears at the United Nations for a press conference with the Chairman of the UN Special Committee against Apartheid. He addresses the committee with a message of peace and spirituality.
Ali Vs. Leon Spinks (II)
Ali's self-appointed title of "The Greatest" is solidified in a Spinks rematch at The Superdome in New Orleans. The event has the then-highest attendance ever for an indoor bout. Ali takes the world heavyweight championship for a third time—a first in boxing history.
Win - Unanimous Decision in 15 rounds [New Orleans, Louisiana]
Prevents young man's suicide in L.A.
Ali hears of a distressed man threatening to jump from a ninth-floor window and races his car to the scene. He talks the man down from the ledge by saying, "You're my brother. I love you." Checking the man into a local hospital, Ali returns later to check on his progress.
Ali Vs. Trevor Berbick – Drama in Bahama
In the 61st and final fight of his career, Muhammad Ali begins the bout trying to look like his former self, but by the sixth round, he began to tire. After Berbick was declared winner, Ali officially retired.
Loss - Unanimous Decision in 10 rounds [Nassau, Bahamas]
Diagnosed with Parkinson's Disease
Since retiring, Ali's health had intensely deteriorated. After checking himself into New York's Columbia Presbyterian Hospital, Ali is diagnosed with Parkinson's disease, a brain disorder that leads to shaking, stiffness, difficulty walking, and loss of balance and coordination.
Marries Yolanda "Lonnie" Williams
After many years of friendship, Lonnie and Muhammad were married in a small ceremony at the home of then Louisville Mayor Harvey Sloane.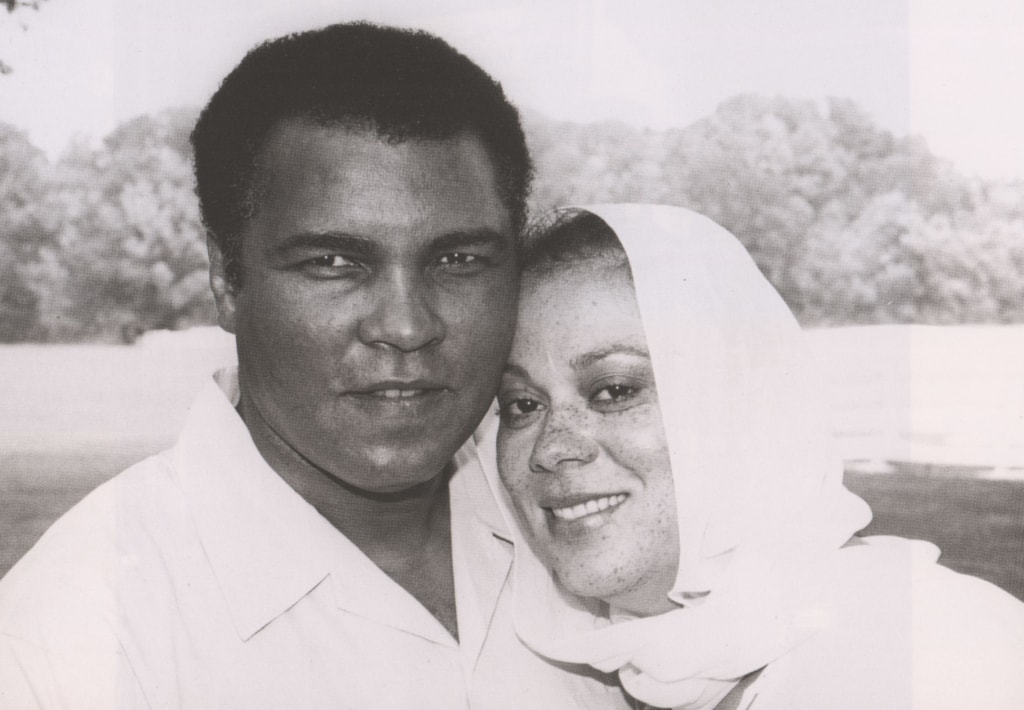 Negotiates Release of 15 U.S. Hostages in Iraq
Despite warnings, Ali travels to Baghdad, Iraq to negotiate the release of 15 United States hostages taken during the Kuwait invasion. Ali meets with Saddam Hussein for nearly an hour and successfully secures the hostages' release.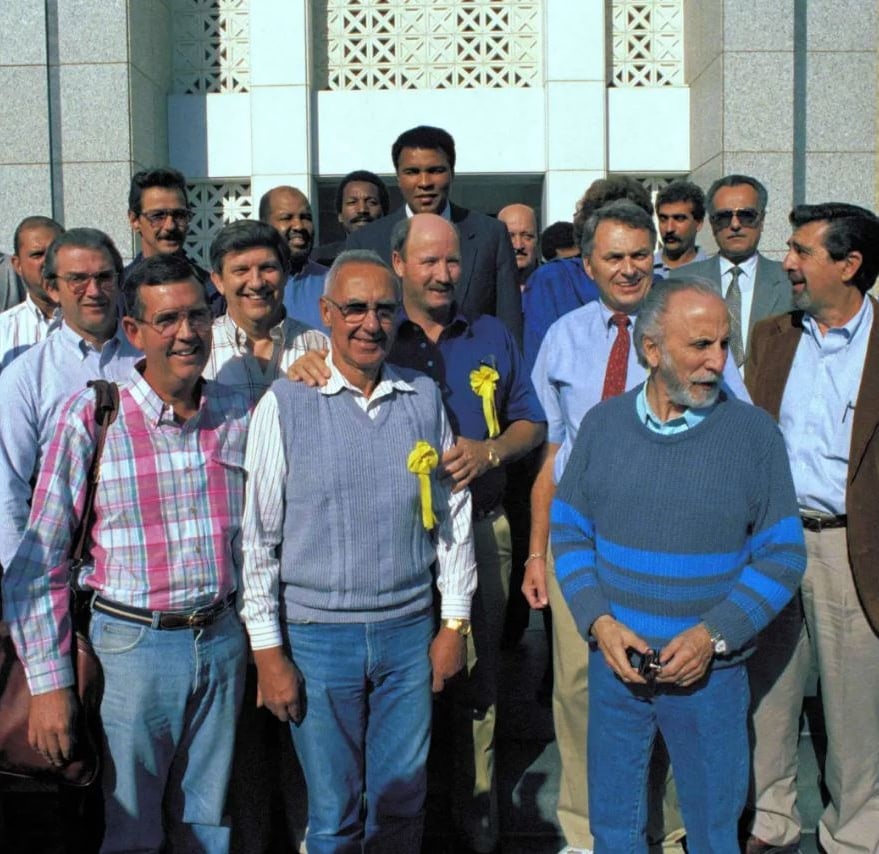 Ali travels to South Africa for two weeks to support the development of boxing. The visit includes his first meeting with Nelson Mandela—who was a boxer as a young man.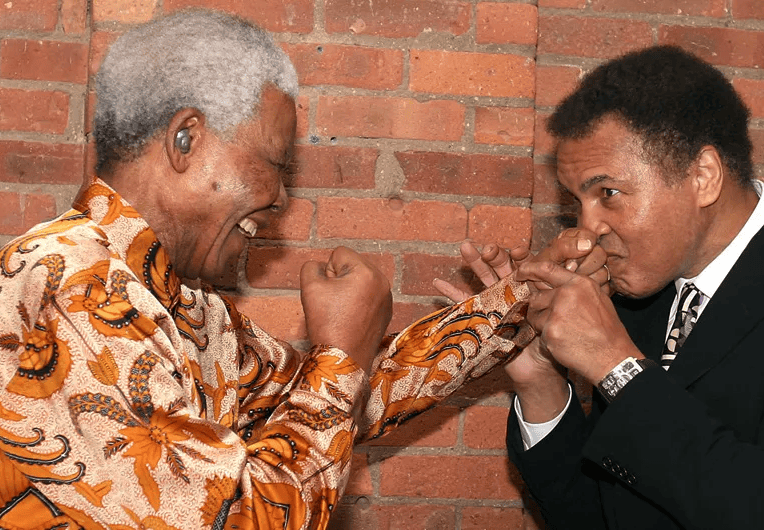 Lights the Summer Olympic Cauldron
In an opening ceremony surprise, with undisguised challenges holding the torch and yet focused and precise, Ali lights the Olympic cauldron in a moment that captivates 3.5 billion worldwide viewers.
Named U.N. Messenger of Peace
Ali's 1978 address to the Special Committee against Apartheid, along with his own belief in sport's power to create unity, inspires Secretary-General Kofi Annan to name Ali as one of his first messengers of peace.
Visits Ground Zero after 9/11
Days after the devastating attacks of September 11, Ali travels to Ground Zero to thank first responders and share a message of peace in the face of xenophobia and Islamic extremist terrorism.
Receives Presidential Medal of Freedom
President George W. Bush awards Ali with the highest civilian honor in the United States: "Across the world, billions of people know Muhammad Ali as a brave, compassionate and charming man, and the American people are proud to call Muhammad Ali one of our own."
Muhammad Ali Center Opens
Despite Ali's impact and fame around the world, Lonnie and Muhammad choose their beloved Louisville as home to a museum and education center for mobilizing Muhammad's legacy of fostering respect, inspiring future changemakers, and advancing social justice.
---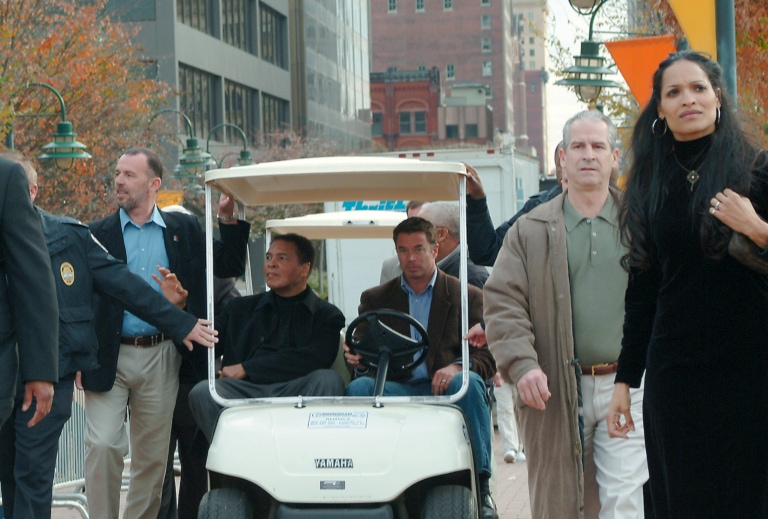 Inaugural Muhammad Ali Humanitarian Awards
These annual awards honor and celebrate individuals who, like Muhammad Ali, have devoted their lives to peace and social justice, inspiring others to do great things in their communities. Inaugural honorees include President Jimmy Carter and Christina Aguilera.
Muhammad Ali passes away late in the evening in Scottsdale, Arizona due to respiratory complications. He was 74.
Celebration of Life and Legacy
For seven days, Louisville and the Muhammad Ali Center are the epicenter of an historic public memorial. Hundreds of thousands of people descend upon his hometown for several memorial events, including a sprawling funeral procession through Ali's beloved hometown streets.