Ali's Spirituality
Muhammad Ali's religion and spirituality defined his character and made an impact on the world.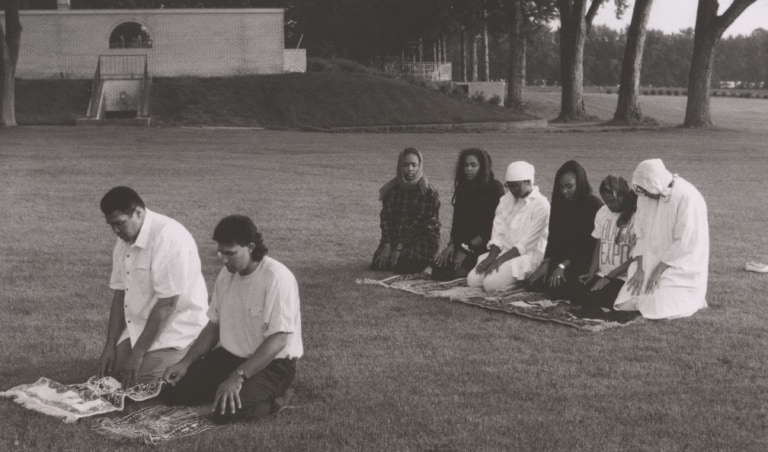 Ali's Religious Background
Muhammad Ali's parents were raised with differing religious beliefs–Cassius Clay, Sr., was a Methodist and Odessa Clay was Baptist. Young Muhammad was raised Baptist, attending church with his mother and brother. It was not until 1959, when he was in Chicago for the Golden Gloves tournament, that Muhammad encountered a representative from the Nation of Islam. This encounter would shape the young boxer's worldviews indefinitely.
Religious Upbringing (1940s-1950s)
In his youth, Muhammad Ali was raised as a Baptist by his mother, alongside his younger brother Rahaman (formerly Rudolph). Odessa Clay took the two boys to church every Sunday. Cassius Clay, Sr. did not join them at church as he was a Methodist, but said Odessa should raise the boys her way because she was a good woman and a good Baptist.
In 1959, while in Chicago for the Golden Gloves Championship, young Cassius Clay, Jr. encountered a member of the Nation of Islam. He was told that Islam was the true religion of Black people. This intrigued him as he had found himself questioning why everything in the church he attended seemed to represent white people. In the coming years, Muhammad Ali would attend numerous meetings with affiliates of the Nation of Islam to learn more.
Conversion to Islam (1960s)
In 1962, Muhammad Ali and his brother, Rahaman, were taken to a Nation of Islam meeting by Sam Saxon, another member of the religious group. At this meeting, Malcolm X spoke and Muhammad found his words inspiring and provocative. This would be the beginning of a mentorship and friendship that would incur speculation from news outlets about Muhammad's involvement with the Nation of Islam.
Two years later, Ali won Heavyweight Champion of the World, announced he was a devout Muslim and would be going by the name of Cassius X.
On March 6, 1964, Elijah Muhammad gave Cassius X a new name, Muhammad Ali.
From May through June, Muhammad traveled to Africa to connect with his ancestral roots. He visited Egypt, Ghana, and Nigeria, meeting numerous people who believed in the teachings of Islam. While in Accra, Ghana, Muhammad ran into Malcolm X and ended their friendship.
Prior to Muhammad's announcement of his religious conversion, Malcolm X was simultaneously teaching him the ways of the NOI and making the difficult decision to leave the group. Malcolm became privy to the many children that were fathered by the group's leader, Elijah Muhammad, out of wedlock and felt uneasy about following him any longer. Elijah knew of this and suspended Malcolm from the NOI and forbade him from speaking in public.
Shortly after his run-in with Muhammad Ali in Ghana, Malcolm separated from the NOI and started his own organization under the teachings of Sunni Islam.
Malcolm X was assassinated on February 21, 1965, and rumors began that Muhammad Ali would be next.
Ali would also be touted by the public as a villain in his fight against Floyd Patterson in November of 1965.
Opposition to War (1960s)
In 1965, Muhammad Ali's draft class is changed after the U.S. Army lowers standards for aptitude test scores.
In February 1966, one month before Muhammad Ali was set to fight Ernie Terrell in Chicago, Illinois, Ali stated that he had no interest in going to Vietnam to fight and expressed opposition to the war. The opposition angered the Illinois State Athletic Commission, who banned the fight from taking place in the state.
Muhammad filed for Conscientious Objection status in Louisville on March 9, 1966, which was denied.
In late 1966, Muhammad moved to Houston, Texas, and filed for CO status again after being advised by lawyer Hayden C. Covington. This was once again denied in March of 1967.
Muhammad formally refused the Vietnam draft on April 28, 1967, and was immediately stripped of his titles and boxing licenses.
On June 4, 1967, Ali met with notable Black athletes like Jim Brown, Kareem Abdul-Jabbar (then Lew Alcindor), and Bill Russell in Cleveland, Ohio. The group decides to publicly support Ali's refusal of the draft.
Muhammad was convicted of draft evasion on June 20, 1967 and was sentenced to five years in prison. He was also ordered to pay a fine of $10,000. Muhammad and his legal team immediately file for appeal and his bail is posted–he avoids any jail time.
From 1967 to 1970, Muhammad traveled the United States to speak at colleges and other institutions about race relations, Islam, and the Vietnam War.
Advocacy & Action (1970s)
Muhammad Ali returned to boxing in October of 1970, during a time where the United States changed its opinion of the Vietnam War.
More than four years after his refusal of the Vietnam draft, Muhammad's draft evasion conviction was overturned on June 28, 1971.
Muhammad visited Mecca for Hajj in January 1972.
In March 1974, Muhammad showed his support for Palestine by visiting a refugee camp in South Lebanon and speaking out for Palestinians.
Ali's famous "Rumble in the Jungle" match against George Foreman to reclaim his heavyweight title took place on October 30, 1974, and was shown to be a celebration of Black greatness and pride.
On February 25, 1975, Elijah Muhammad died and his son, Warith Deen Mohammad, took over the Nation of Islam religious group. Warith changes the trajectory of the group to study Sunni Islam, which Muhammad Ali also converts to.
Commitment to Peace (1980s-2010s)
Muhammad Ali took his second Hajj pilgrimage to Mecca in 1988.
In 2001, nine days after the September 11 attacks, Muhammad visited New York City and reminded Americans that the attacks were committed in the name of hate and not faith, stating Muslims do not believe in violence.
"Islam is a religion of peace. Islam does not promote terrorism or the killing of people." – Muhammad Ali
Muhammad was awarded in 2006 by the World Economic Forum's Council of 100 Leaders for promoting Islam.
In 2015, following terrorist attacks in Paris and California made in the name of Islam, Muhammad made one of his final public statements to denounce the radical agenda of Islamic Jihadists.